Arts and Heritage Foundation: Musee Heritage Museum – In person
July 6 – 10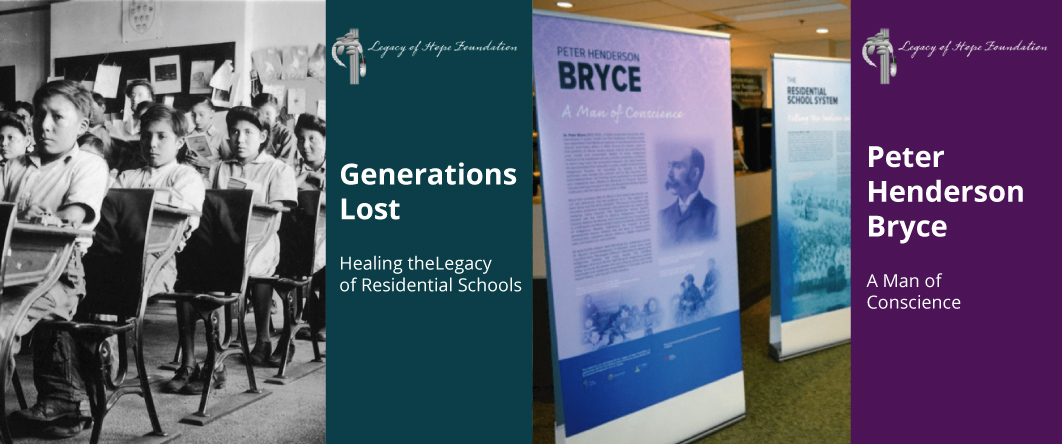 Tuesdays to Fridays 1 – 5pm;  Saturdays 10 am – 5pm
The Musée Héritage Museum is the keeper of the history, traditions and heritage of St Albert and district. Together with the community we build knowledge, explore our relationship with the natural environment, and celebrate historic diversity.
During the 25th Annual Historic Festival and Doors Open, take in a few exhibitions created by the Legacy of Hope Foundation, a national Indigenous charitable organization with the mandate to educate and create awareness and understanding about Canada's former Residential School System:

Generations Lost: Healing the Legacy of Residential Schools
For several centuries, Indigenous children were taken from their homes and communities and placed in institutions called Residential Schools. These schools were run by religious orders in collaboration with the Federal Government and were attended by children as young as four or five years of age.
Separated from their families and prohibited from speaking their native languages and practicing their culture, the vast majority of the over 150,000 children that attended these schools experienced neglect and suffering. The impacts of sexual, mental, and physical abuse, shame, and deprivation endured at Residential Schools continue to affect generations of Survivors, their families, and communities today. Remarkably, in the face of this tremendous adversity, many Survivors and their descendants have retained their language and their culture and continue to work toward healing and Reconciliation. This is likely due to their traditional and cultural beliefs, teachings and way of life prior to attending Residential Schools.

Peter Henderson Bryce: A Man of Conscience
As medical health officer for the Department of Indian Affairs, Bryce had found that large numbers of First Nations children were dying each year due to conditions in Residential Schools and lack of tuberculosis treatment from 1904 to 1921.
The Truth and Reconciliation Commission estimates that at least more than 6,000 children died in the schools from preventable disease, abuse, and neglect. There may be more, but it would be impossible to try to estimate how many at this point.
"Whistleblowers" from all walks of life called on Canada to help the children. The Federal Government and many Canadians chose not to listen, or to do the bare minimum, with tragic results. Many would have been saved had the Government listened to Dr. Bryce or if the public had become significantly outraged had they pressed the Government to change the system and to stop the abuses. Unfortunately, the last school only closed in the North in 1997.
Arts & Heritage Foundation
Musee Heritage Museum
In St. Albert Place
5 St. Anne Street, St. Albert, AB T8N 1E5