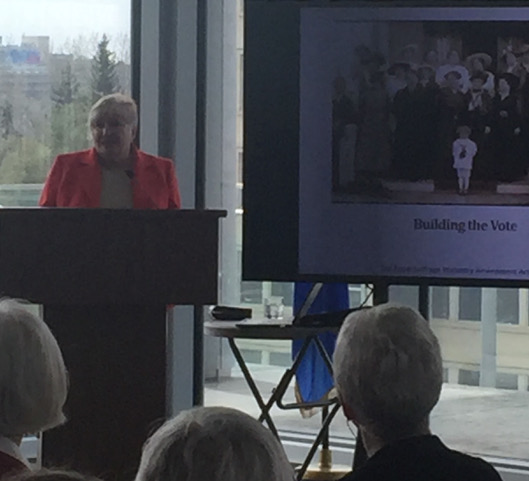 The Edmonton and District Historical Society has access to professional historians who can offer free presentations on several topics through our History in the Community program. These presentations are aimed at adults and high school students, and are made possible through the generous funding provided by the Phyllis Arnold Learning Fund.     
Our key presenter is Shirley Lowe, Edmonton's second Historian Laureate. Shirley has produced three special Power Point presentations for the EDHS History in the Community program:
Building the Vote
Alberta was one of three prairie provinces that changed their suffrage act in 1916 to include women. This presentation takes us back almost two hundred years prior to 1916 and discusses some of the barriers that kept women from gaining equal voting rights. An overview of subsequent challenges for both women and men finishes the presentation.
Canada's Greatest Land Transfer
Canada, in 1867, consisted of four founding provinces. Two of those were less than one third of their present size. Two hundred years prior, an English king, who had never seen the continent, had given a fur trading company control over a large parcel of land. The purchase of Rupert's Land by the Dominion of Canada had implications for Edmonton. 
Edmonton: Two Cities, Two Villages, Two Towns
A number of factors created Edmonton and municipalities outside of the original boundaries of the city. We explore the origins of these communities, their locations and the reasons that they amalgamated with Edmonton.
From 2012 to 2014, Shirley Lowe was the City of Edmonton Historian Laureate, an honourary position promoting the public awareness of Edmonton's history through research, writing and public appearances.  
Shirley is the coauthor or editor of three community history books and has researched and authored reports on "Measuring the Value of Heritage Preservation and Edmonton's Urban Evolution." She helped to mark significant Edmonton milestones like the 100-year anniversaries of the completion of the High Level Bridge and the amalgamation of Strathcona and Edmonton.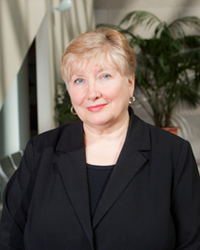 To request a speaker for your organization, please contact the EDHS office by email or telephone.
NOTE: Because we are a volunteer-run organization, we do not have regular office hours or a person answering the phone. If you contact us by phone, please be prepared to leave a voice mail message and we will return your call as soon as possible.