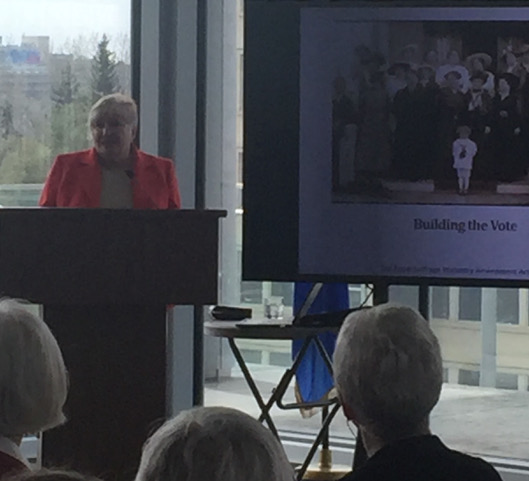 The Edmonton and District Historical Society has access to professional historians who can offer free presentations on several topics through our History in the Community program. These presentations are aimed at adults and high school students.
Our key presenters are Shirley Lowe and Tom Long, two long-time local historians, educators, and museum professionals. They offer a variety of both in-person and live virtual programs.
Shirley Lowe
Edmonton's second Historian Laureate. Shirley has produced three special Power Point presentations for the EDHS History in the Community program.
Building the Vote: Alberta was one of three prairie provinces that changed their suffrage act in 1916 to include women. This presentation takes us back almost two hundred years prior to 1916 and discusses some of the barriers that kept women from gaining equal voting rights. An overview of subsequent challenges for both women and men finishes the presentation.
Canada's Greatest Land Transfer: Canada, in 1867, consisted of four founding provinces. Two of those were less than one third of their present size. Two hundred years prior, an English king, who had never seen the continent, had given a fur trading company control over a large parcel of land. The purchase of Rupert's Land by the Dominion of Canada had implications for Edmonton.
Edmonton: Two Cities, Two Villages, Two Towns: A number of factors created Edmonton and municipalities outside of the original boundaries of the city. We explore the origins of these communities, their locations and the reasons that they amalgamated with Edmonton.
Biography
From 2012 to 2014, Shirley Lowe was the City of Edmonton Historian Laureate, an honourary position promoting the public awareness of Edmonton's history through research, writing and public appearances.   Shirley is the coauthor or editor of three community history books and has researched and authored reports on "Measuring the Value of Heritage Preservation and Edmonton's Urban Evolution." She helped to mark significant Edmonton milestones like the 100-year anniversaries of the completion of the High Level Bridge and the amalgamation of Strathcona and Edmonton.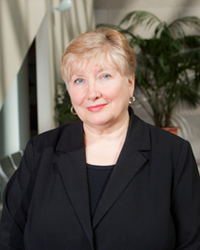 Tom Long
Tom Long is a public historian, longtime historical interpreter, and storyteller. Tom has prepared 5 presentations that can be delivered via Zoom or Google Meets.
Say What? Eight Unbelievable True Tales of Edmonton's Past: Some bits of history are just so bizarre you can't believe they actually happened. Take a journey through nine ridiculous stories and, in the end, guess which one of them is a fake. Truth is stranger than fiction!
Fake News at Fort Edmonton: The 1885 Resistance comes to the River City…Kind of: Fake news, rumours, and ignorance on the edges of the North-West Resistance contributed to panic spreading far from the sites of any actual battles. Edmonton had its own distinct experience, with a rumour of massive Indigenous uprising, supposed secret ambushes, daring horse messengers, and a mischievous cat out for a midnight stroll. The stories of Edmonton's experience in the Resistance are more relevant than ever.
Tripmen, Braroes, and Bourgeois: Remembering Life, Labour, and Class in the 19th Century Fur Trade: More than 100 years before the first settler arrived, fur-trading companies built outposts, bought beaver, and employed men, women, and children in Edmonton and throughout the North-West. Peel back the curtain and take a trip back in time to meet Paulet Paul, John Rowand, and Margaret McKay – some of Edmonton's forgotten figures.
Remembering the First Lady of Fort Edmonton: Louise Umphreville: For over forty years, Louise Umphreville was probably the most powerful Métis woman on the prairies. She owned a vast herd of horses, lived in the largest building west of Hudson's Bay, and held a position of some authority over the women and children of Edmonton. Today most Edmontonians have never heard of her. This presentation explores what we know of Louise and a fur trade woman's life, labours, tragedies, and legacy.
City of Champions: Stories of Petitions, Protests, and Action in Edmonton's Past: From fur traders' demands to suffragists' demonstrations, Edmonton has been home to champions, advocates, and activists for hundreds of years. Hear stories of those who questioned, pushed, demanded, and strove – sometimes even for causes we might shrink from today. Leave inspired to take action yourself – it's the most Edmonton thing you can do.
The 1846 Christmas Feast and other Fort Edmonton Tales
In the frigid North-West there are few times that should be more miserable than the coldest, shortest, darkest days of the year. But fur traders at Fort Edmonton and beyond found ways to enjoy the holiday season in sometimes surprising ways. How do you win a dogsled race against seasoned pros? How do you reconcile two violent opposing factions? How do you eat a moose's nose? All these questions will be answered and more! Share your Christmas season with Paul Kane, Peter Erasmus, Margaret Rowand and other fascinating figures of the Fort Edmonton fur trade era.
Biography
Tom Long is a public historian and programmer at various Edmonton museums. He has been telling Edmonton's stories for nearly twenty years both in historic costume and out. He is the co-founder of North Wind Heritage Consulting and of YEGtales and is excited to use the most modern digital platforms to engage people in the most exciting histories.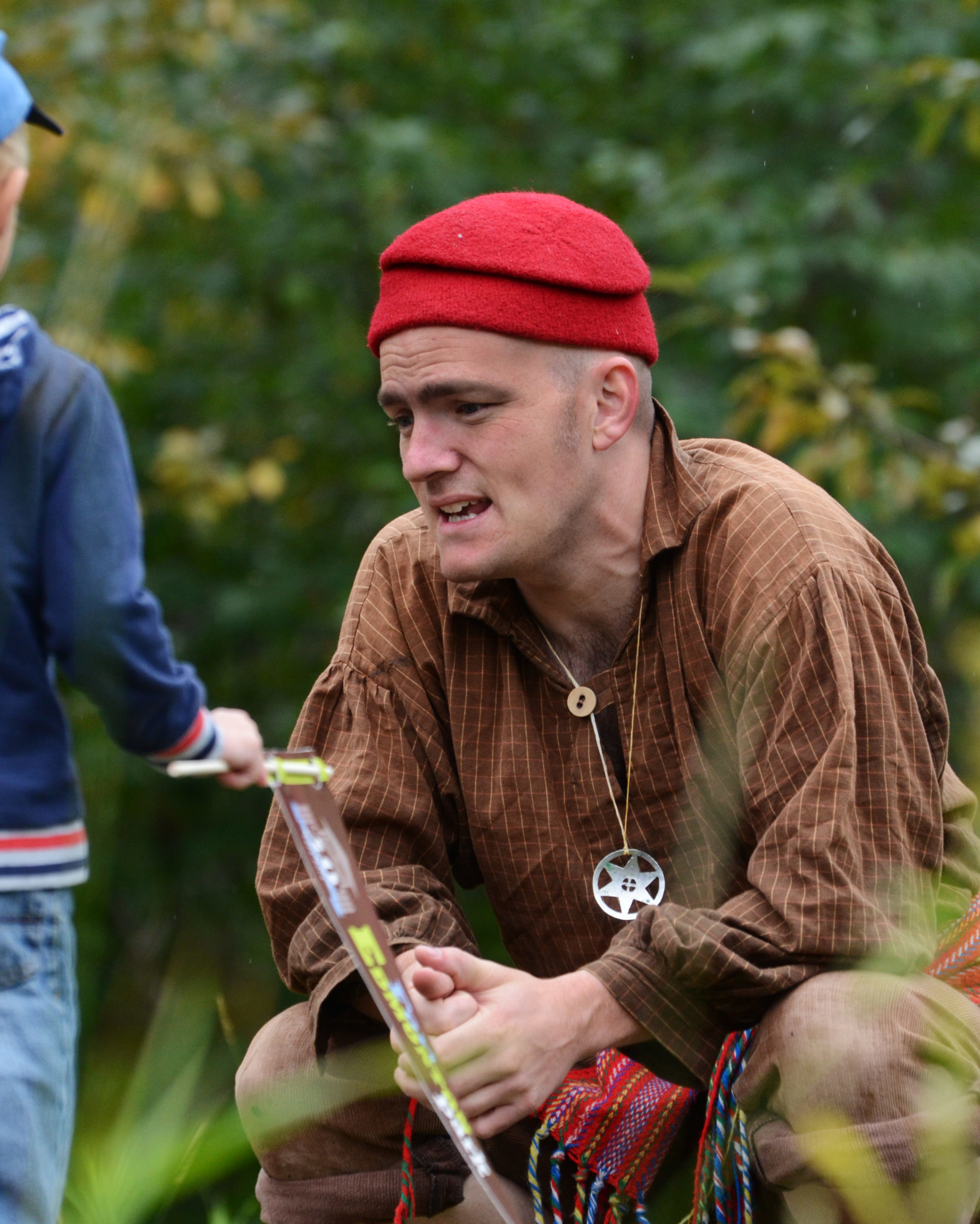 To request a speaker for your organization, please contact the EDHS office by email or telephone.
NOTE: Because we are a volunteer-run organization, we do not have regular office hours or a person answering the phone. If you contact us by phone, please be prepared to leave a voice mail message and we will return your call as soon as possible.